Quality; Integrity; Strength: McLaren manufacture extensive, top-quality ranges of tire and track solutions for all types of industrial on- and off-road machines.
If your company has a varied fleet of vehicles, we can provide the best rubber for them all, and give some machines quick and convenient conversion for multi-terrain capability (exemplified by our skid steer Combo Package). This can rationalize operations by using one vehicle for various landscapes (or one that changes during in the course of work), with minimum on-site conversion time.
Whether operating in a warehouse environment: Nu-Air® Solid Cushion; on a golf green or ornamental setting: New Generation® TURF Non-Marking; in extreme snow, ice and rock: Diamond OTT™; Harvesting crops in foothills or on prairies: FieldMaster™ Multi-Season – or any other place in between – McLaren quality covers any landscape and job a machine can be sent in to do. We provide integrity grounded in cutting-edge technology and development. And give you unrivalled strength and durability reached through the highest manufacturing processes.
Technology and design are paramount.  McLaren's track and tire ranges incorporate a rolling program of research which is driven by ongoing design and refinement. Our technicians are constantly searching for ways to improve products and work tirelessly to satisfy customers by listening to feedback and finding solutions – either to enhance a range or for an individual customer's requirements. This methodology has led to the fantastic designs that are the integral footprint of our various product ranges.
The solid (or semi-solid!) foundation of McLaren tires is Semi-Pneumatic Technology™ exemplified in the Nu-Air® line. This revolutionary tire architecture provides the invulnerability of an airless product with the vibration reduction of traditional air-filled rubber. Varied tread configurations are carefully employed to most efficiently meet the criteria of full-ranging areas of operation. These tires combine perfectly with the OTT™ (Over-The-Tire) track options we offer for multi-function application.
In the rubber track department, SpoolRight™ Belting Technology in the New Generation® line is one of the main strengths that keep McLaren tracks turning when other makes fail. This internal joint-less design eliminates the vulnerability of track-break that causes so much lost operating time. Combine both High-Performance Rolling Area Track™ (HRAT) and 5-RT compounds into the mix of high quality rubber ingredients, and you have a track that is far more durable and protected against U.V light, giving even longer product life.
When the going gets tough, McLaren steel tracks keep going, taking a vehicle to work where other tracks have trouble. What drives these formidable products is the fine attention to design detail, superb quality steel and the outstanding quality of their manufacture. Tracks such as the Hybrid™ Heavy Duty and Diamond OTT™ take a machine to work where others fear to tread. As expected, McLaren adaptability is in-built to our track ranges, allowing them to operate with bare steel or quickly fitted with a variety of magnesium-enriched rubber pad options. The facing 40Cr heat-treated, forged carbon-steel alloy is hardened to HRC 50-55 giving performance and endurance on ice, rock, rubble or scrap that cast links simply cannot match. All the links are connected with pins and fittings that are chromium-enriched for strength and track components are formed to be easily replaced for convenient rebuilds and periodic maintenance.
Attention to the smallest detail is what keeps a machine stable and gives maximum efficiency. Track and tire tread patterns play a vital part in providing traction and maintaining safe working. McLaren pay great attention to this throughout all product ranges to maximize performance. The various patterns are also specifically tailored to differing widths to offer the best traction and stability that also combines prolonged product life. The resulting minimal operating vibration helps preserve the integrity of loads at height and reduce wear to undercarriage components.
The footprints of our rubber and steel products range from the most discreet imprint like the New Generation® TURF non-marking, to the maximum bite of Diamond OTT™ steel. AND – in the unlikely event that McLaren haven't got a solution for your machine requirements, contact us – WE'LL CREATE ONE!
McLaren Industries maintain a constant and effective OEM communication network ensuring constant development in service and ever-advancing design technology. This provides us with the capability to always meet our customers' most demanding requirements, giving you confidence – and us satisfaction.
Solid Cushion Tires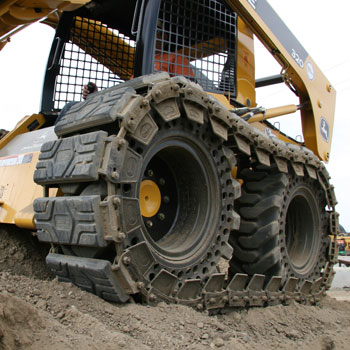 Over-the-tire Tracks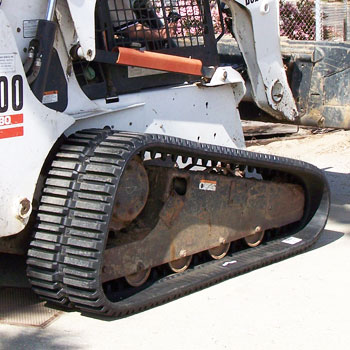 Rubber Tracks
At McLaren Industries, we have invested years in research and development to create the highest quality rubber compounds and designs for tires and tracks. The result is an entirely new class of high performance products. The combination of superior formulations, raw materials, production technology and testing practices makes McLaren products a world standard for quality.
The Major Benefits of Flat Proof Tires

-

In order to meet the challenges of modern day construction work all around the world, new technologies are constantly being developed. If not entirely new, some designs are getting upgraded and made better to improve the performance of the machines and enable superior results. Such is the improved features of tires and the ever increasing ...

Pros and Cons of Different Types of Flat Proof Tires

-

If you have decided to go the safest way for your construction vehicle and equip it with flat proof tires, you will do well to educate yourself on the various types you can choose from. Even though these tires are generally made to fulfill the same purpose, there are variations you need to delve into, ...

Maintenance of Rubber Tracks

-

If you have made the decision to purchase McLaren's rubber tracks, you will experience great benefits. Improved performance due to the SpoolRite Belting technology is guaranteed. Its design, which features a continous belt without a single joint connection or overlapping areas, will improve the work of any vehicle!There is only one thing you need to ...